This turquoise ring collection is versatile. Whether simple or extravagant, we have it all. Get yourself one now and be fabulous!
$69.99
Made Sriasih designs a captivating ring featuring the shimmering elegance of sterling silver. The ring welcomes the colorful intrigue of reconstituted turquoise. .925 silver.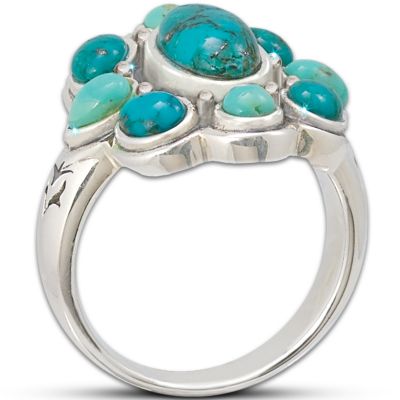 Pieces Of Heaven Sterling Silver And Genuine Turquoise Ring
$99.00
In Native American folklore it is believed that the stunning turquoise is actually a piece of the sky that fell from the heavens, joining the water on Earth to form a healing stone that connected body and spirit. Now, the magnificence of turquoise is gloriously expressed in the Pieces of Heaven turquoise stone ring, a fine jewelry design available exclusively from The Bradford Exchange. Handcrafted of solid sterling silver this stunning ring with 9 genuine turquoise stones gleams with the beauty of heaven and earth. The ring's center features a large oval cabochon surrounded by 8 smaller round and pear-shaped turquoise stones that alternate in color from deep cerulean blue to light robin's egg blue. Each stone is set in a traditional Native American-style setting and the sides of the ring's shank are delicately etched with a stylized flower motif. Strong demand is expected for this Native American-inspired ring, so don't wait. Order now!